Frisk
your business
Get insights on your business preparedness and investment readiness - use our FREE evaluation tool to get a credit score style rating for your proof-of-concept, start up or scale up.
Quick. Simple. Data Rich.
Join other investors, entrepreneurs, accelerators and business support providers in understanding the risk level of your venture
Average Rating

D

Data points assessed

348

Average time to complete

13

mins
Frisky Business
Designed to provide a gap analysis of business maturity our tool can be used to evaluate opportunity, mitigate risk, and reassure investors of progress status.
Part I: FQ Score
Your Frisk Quotient is comprised of the essential building blocks of business, applicable to any venture at any stage
Opportunity

Stage of development of the idea combined with market fit analysis, including business model and go-to-market strategy

Capability

Access to resources and skills necessary to deliver the idea, covering operations and the whole team from employees to board advisors

Value

Measure of the holistic business outputs across growth strategy, revenue generation and customer acquisition
Part II: FQinvestment Score
If you've taken investment, or plan to take investment, you'll get additional sections on your report covering investment readiness.
Exit

A look at your maturity for exit such as whether you have identified routes to exit, or have a target exit in mind

Fundraising

How prepared you are to have conversations with investors whether that be collateral needed or proposed deal size and shape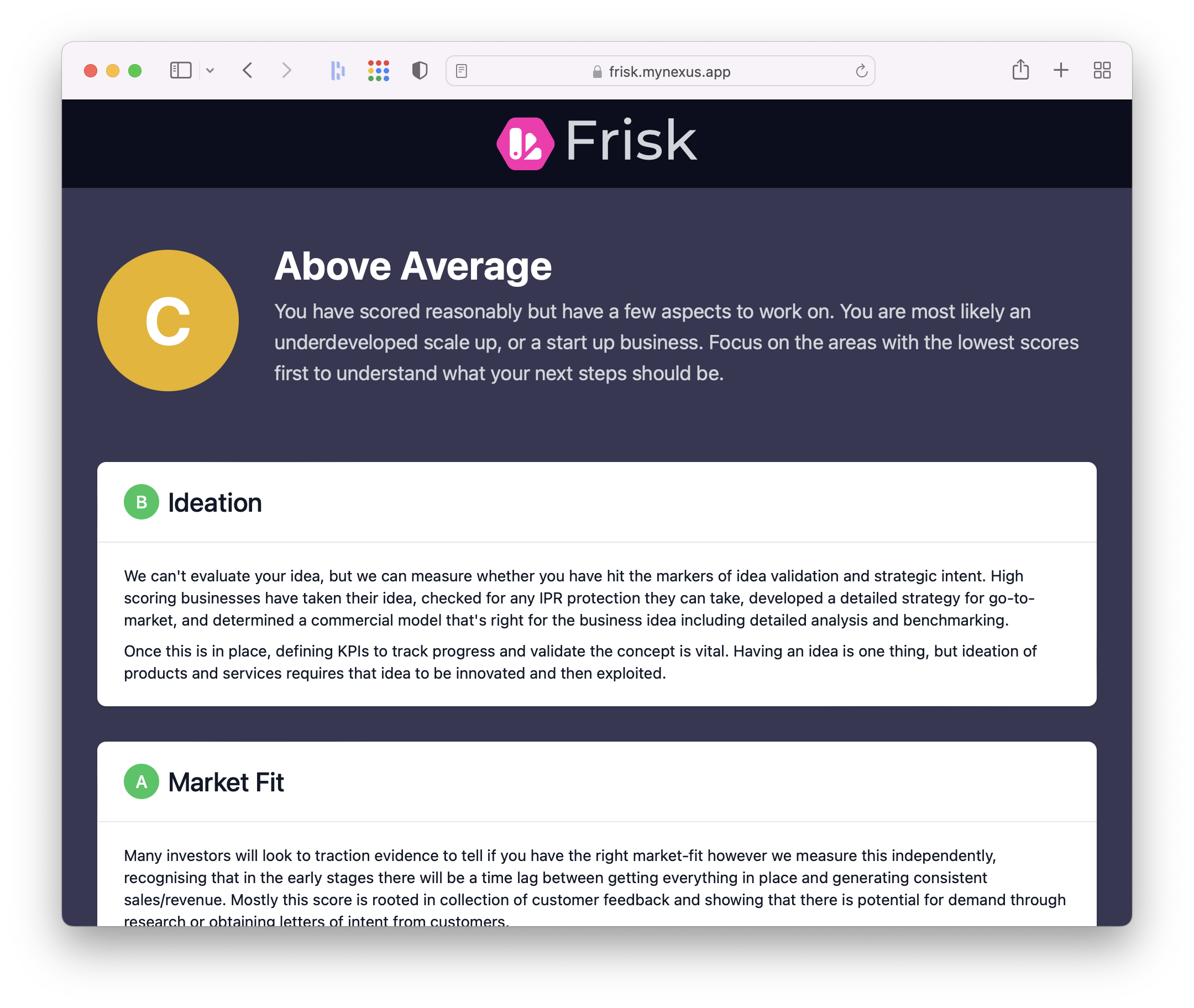 We've got more coming...
Want to hear from us when we add new features or release new products? Sign-up for our newsletter and we'll email you once a month with the latest updates.